Back to our blog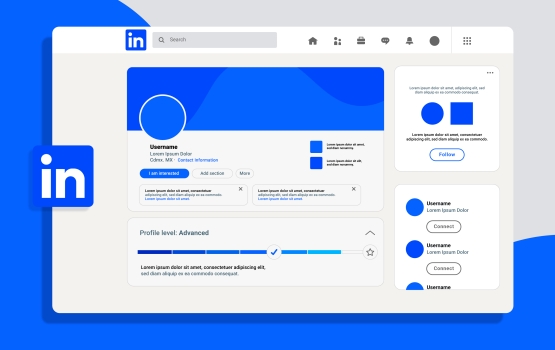 How to create a good profile on LinkedIn
LinkedIn is a professional networking site that allows individuals to connect with other professionals and showcase their skills and experiences. It is an important platform to use for building a professional online presence, making connections with others in your industry, and even landing new job opportunities.
In order to create a good profile on LinkedIn, there are several things you can do to make sure that you stand out and present yourself in the best light possible.
Start with a professional profile photo
The first thing that people will see when they visit your LinkedIn profile is your profile photo. Make sure that your photo is professional and appropriate for the platform. This means no selfies or party photos, and instead opt for a headshot that is well-lit, in focus, and shows you in professional attire.
Craft a compelling headline
Your headline is the second most important thing people will see after your profile photo. It is a short sentence or phrase that appears under your name and should be used to showcase your expertise and what you have to offer. Avoid vague or generic headlines like "marketing specialist" and instead use specific language to highlight your skills and experience.
Write a strong summary
Your summary is a short paragraph that appears at the top of your profile and is an opportunity to introduce yourself and explain what you do. Use this space to highlight your skills, experience, and what makes you unique. Be sure to include keywords relevant to your industry so that your profile can be easily found by recruiters or others searching for professionals in your field.
Showcase your experience
Your experience section should highlight your past work history and accomplishments. Use bullet points to describe your roles, responsibilities, and achievements in each position. It's important to be specific and use quantifiable metrics whenever possible to show the impact you've had in previous roles.
Add relevant skills
LinkedIn allows you to add up to 50 skills to your profile. Make sure that the skills you include are relevant to your industry and the types of jobs you are looking for. This will help recruiters find you more easily and will showcase your expertise to potential employers.
Get recommendations and endorsements
Recommendations and endorsements from others in your industry can be a great way to showcase your skills and experience. Ask colleagues or supervisors to write a recommendation for you or endorse your skills on LinkedIn. This will help to build your credibility and showcase your expertise to others.
Engage with others
Finally, it's important to engage with others on LinkedIn in order to build your network and showcase your expertise. Join groups relevant to your industry, share relevant articles or posts, and engage with others by commenting on their posts or sending personalized connection requests. This will help you to build relationships and establish yourself as an expert in your field.
In conclusion, creating a good profile on LinkedIn requires a bit of effort, but it's well worth it in order to build your professional online presence and make valuable connections in your industry. By following these tips, you'll be well on your way to creating a standout profile that showcases your skills, experience, and expertise to others on the platform.